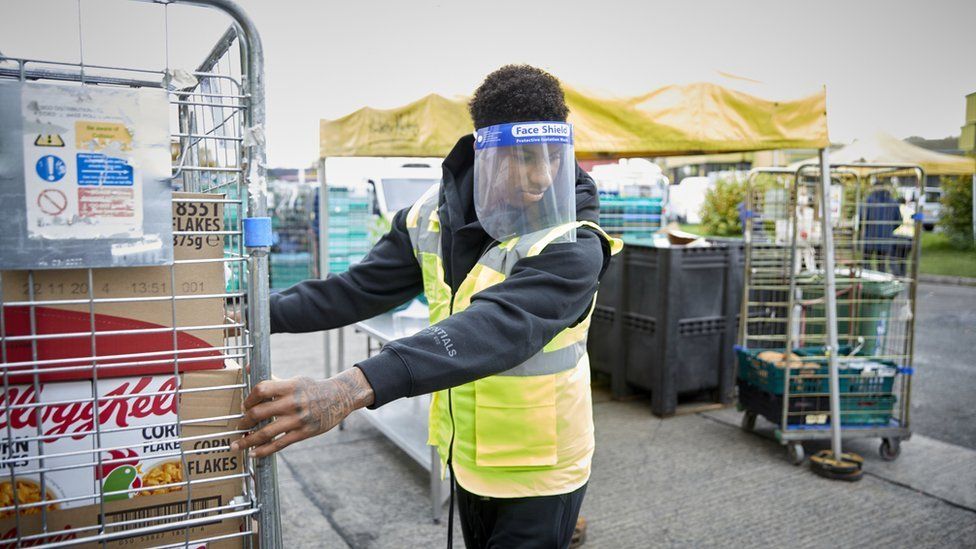 Caterers must "urgently" improve the quality of food parcels being provided to the poorest pupils in England while schools are closed during the national lockdown, a minister has said.
Children's minister Vicky Ford said this would ensure eligible children received "a healthy, nutritious lunch".
It comes after footballer Marcus Rashford shared images of some parcels online, calling them
One post, by Roadside Mum on Twitter, was picked up by news outlets.
Food parcels are currently being sent to school children in England who would normally get free school meals.
A row broke out after Roadside Mum posted the photo of two carrots, two potatoes, a tin of baked beans and a small range of other food items, which she calculated to have cost about £5. The post prompted others to complain about the quality and quantity of the food in parcels.
The mother, who does not want to be identified, had thought it was supposed to last 10 school days and should have been worth £30.
Chartwells, the company that provided the parcel, said it was actually only intended to last one school week and had cost £10.50 for food, packing and distribution.
The firm said it had been required to provide thousands of food parcels "at extremely short notice" – but acknowledged it was insufficient and apologised.
In a statement on Tuesday, Ms Ford said the food parcels being shared online were "completely unacceptable" and "do not reflect the high standard of free school meals we expect to be sent to children".
She added: "Chartwells has rightly apologised and admitted the parcel in question was not good enough. I met their managing director earlier today and he has assured me they have taken immediate action to stop further deliveries of poor-quality parcels.
"They will ensure schools affected are compensated and they will provide additional food to the eligible child in line with our increased funding."
She said the government would now be demanding that caterers "urgently improve the quality of lunches they provide to children".
"This will make sure every one of them receives a healthy and nutritious lunch that will give them the fuel they need to focus on learning at home."
Ms Ford has said anyone with evidence of problems should provide details to the Department of Education for investigation.
The government will set out further details on Wednesday of how best to report this and other matters, she said.
Chartwells, which is owned by Compass group, has pledged to refund costs where food parcels have not met its standards, and to contact schools to understand where shortages have occurred, while also apologising to anyone affected.
It has also said the firm will further enhance its food parcels following the Department for Education's additional allowance of £3.50 per week per child, in line with nutritional guidelines.

What does guidance on food parcels say?
parcels should contain food items rather than pre-prepared meals due to food safety considerations
minimise the fridge and freezer space that schools and families will need to store foods
contain items which parents can use to prepare healthy lunches for their child/children across the week
not rely on parents having additional ingredients at home to prepare meals
not contain items restricted under the school food standards
cater for pupils who require special diets, for example, allergies, vegetarians or religious diets – schools should ensure there are systems in place to avoid cross-contamination
contain appropriate packaging sizes for household use, rather than wholesale sizes

The initial images drew widespread criticism.
Labour's leader Sir Keir Starmer tweeted that the food appeared to be "woefully inadequate" and said it needed "sorting immediately".
And Anne Longfield, the children's commissioner, called on companies to provide "real food and real amounts that will really help families".
Meanwhile, Dr Max Davie, of the Royal College of Paediatrics and Child Health, said the contents of the food parcels were "not nutritionally sufficient for children and young people".
He added: "Children who rely on free school meals have worse health outcomes than their peers and deserve proper help. The examples shared are an insult to the dignity of people who rely on this support."
After a meeting with the company, Rashford, a high-profile campaigner for children on free school meals, said: "One thing that is clear is that there was very little communication with the suppliers that a national lockdown was coming.
"We MUST do better. Children shouldn't be going hungry on the basis that we aren't communicating or being transparent with plans. That is unacceptable."
Earlier on Tuesday, Downing Street said food parcels should be healthy and sufficient for the task.
The DfE, which has clear guidelines for parcels, has said it will open a national scheme to provide supermarket vouchers via an online portal – similar to that of the first lockdown – "as soon as possible".
During the current lockdown, schools in England have been told to continue providing free meals for those who are learning at home, and have been urged to use their usual caterers to offer food parcels.
If schools cannot provide parcels, they can consider other arrangements which might include vouchers for local shops and supermarkets.
In Wales, the provision of free school meals during the holidays has been extended by a year, and the Northern Ireland Executive made a pledge in November to provide free school meals in holidays until Easter 2022.
In Scotland – where holiday provision is currently promised up to Easter 2021 – both the SNP and the Scottish Conservatives have pledged to fund free school meals for all primary school pupils during term-time and holidays if they win the 2021 Scottish election.